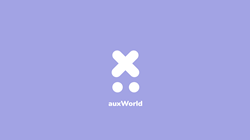 "auxWorld is at that forefront of thoughtful metaverse creation," said entrepreneur and investor, Mark Cuban. "The team has an ambitious, innovative vision and I am excited to see Auxuman's role in mapping the future of the metaverse."

LONDON (PRWEB)
September 22, 2022
Auxuman, the leading no-code metaverse platform, today announced the next phase of its business evolution with the introduction of auxWorld. The growing metaverse company empowers creators of all kinds by leveling the virtual playing field and giving brands the tools they need to better reach and serve their customers with the world's first no-code metaverse solution.
Today's metaverse experience is gated by big companies that build online games, stifling the creativity of users and limiting their experiences. Through auxWorld, brands and creators are given an opportunity to be involved in the creation of metaverse experiences through superior graphics, thoughtful game-play, and meaningful utility for each customer base.
"Our first software product, auxWorld, can revolutionize how virtual worlds are created by providing a simple and streamlined way for anyone to build a highly immersive and engaging experience," said CEO and co-founder, Negar Shaghaghi. "auxWorld is a platform for creation and culture: creators create every day, users enjoy endless play and brands get closer to consumers on a daily basis."
Auxuman Gives Creators the Power to Build Metaverse Experiences with Virtually Endless Possibilities
Stagnant models where design and play are dictated by the platform have been an ongoing roadblock for creators to develop their own space in the metaverse. Instead, Auxuman involves the consumer in every stage of metaverse creation, providing endless opportunities to create. This, in turn, gives brands and creators an exceptional opportunity to build a long-term and sustainable presence in the metaverse.
"auxWorld allows every user to benefit from the metaverse ecosystem," said Shaghaghi. "Using the auxWorld standard framework, creators can develop truly original content in very little time. Brands work with us to provide assets and rewards, including NFTs, that become the building blocks of metaverse creation where users enjoy an endless number of experiences as a result."

Emerging as an innovator in the metaverse space, Auxuman has caught the attention of one of the most recognizable investors today— Mark Cuban

"auxWorld is at that forefront of thoughtful metaverse creation," said entrepreneur and investor, Mark Cuban. "The team has an ambitious, innovative vision and I am excited to see Auxuman's role in mapping the future of the metaverse."
About Auxuman

Founded in 2019 with a focus on building virtual beings (NPCs), Auxuman expanded its AI and Digital Twin expertise to evolve into the first fully-featured metaverse creation platform, auxWorld. auxWorld is a metaverse creation platform that democratizes access and lowers the barrier to entry for creating branded metaverse experiences. Auxuman's comprehensive all-in-one platform offers a standardized toolkit that makes it easy for anyone to build native, high quality and customized metaverse experiences. With funding that includes investments from Mark Cuban, Tess Hau, Betaworks Ventures, and others, Auxuman is partnering with the world's most innovative agencies and brands to build the future of the metaverse today. For more information, please visit https://www.auxuman.space.
# # #
Share article on social media or email: