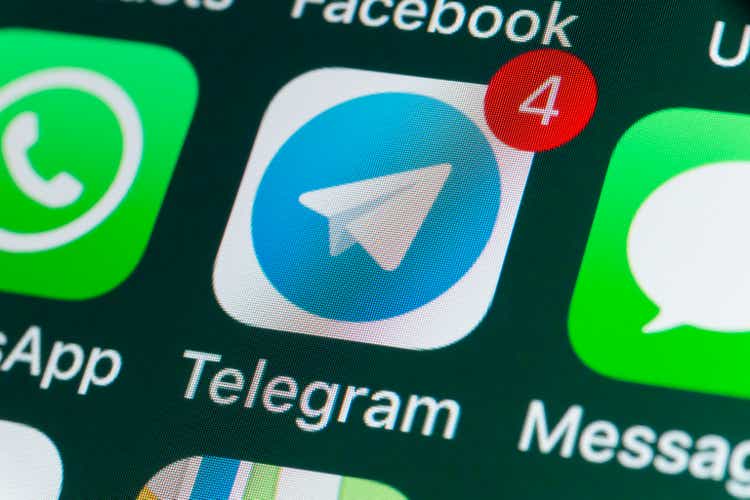 While most of the crypto market has been down pretty big since the collapse of FTX (FTT-USD), there are some coins that have been showing general strength comparatively. No coin with a top 100 market capitalization rank has done better than Toncoin (TON-USD) in the last 60 days. TON is up over 34% in that time period compared to Bitcoin (BTC-USD) and Ethereum (ETH-USD) which are both down about 20% as of publishing.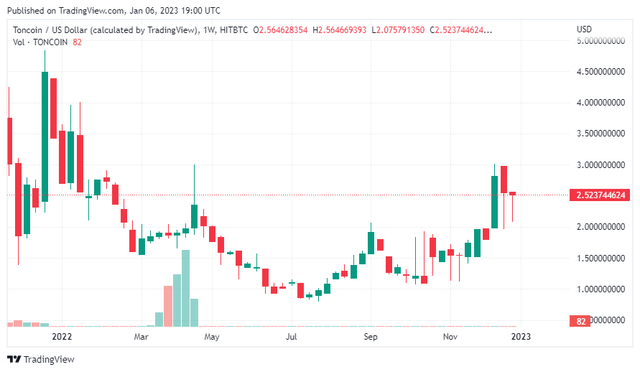 Following the fall of FTX in November, many of the coins that have outperformed the rest of the market since have had a focus on decentralization in some way. Self-custodial wallet tokens like Trust Wallet Token (TWT-USD) and non-custodial DEX dYdX (DYDX-USD) have performed very well. Toncoin is another example of a public blockchain that is marketed as a decentralized network. The rally in TON coupled with the relative underperformance of the rest of the crypto market has propelled TON all the way to a top 25 market capitalization according to CryptoMarketCap.com:
Market Cap Rank: 25
Circulating Market Cap: $2.6 billion
Fully diluted Market Cap: $10.9 billion
Circulating Coin Supply: 24%
Toncoin's History
Toncoin is the native currency of "The Open Network." The Open Network has one of the more bizarre histories of the top public blockchains. The network was originally developed and launched by the founders of Telegram.

One of the key problems with The Open Network from the launch was the $1.7 billion private sale in 2018. It was such a large token offering, that the SEC stepped in with a lawsuit:
The US Securities and Exchange Commission sues Telegram, accusing it of conducting an unregistered securities offering. Telegram argues that the SEC's claims were baseless, but agrees to postpone the launch of TON until legal matters are resolved.
Despite disagreeing with the SEC's position, Telegram ultimately ceased the development of TON, paid a fine, and returned funds to the original investors in 2020. Because there was already a community interested in developing on the chain, there was enough excitement and valuable code from the original project that a group of independent developers took over TON and have brought it back into the wild without any ICOs.
Structurally, The Open Network is a proof of stake blockchain that is sharding-enabled for fast blocks, nearly instant finality, and very high TPS projections. According to the TON Foundation's own analysis of the blockchain, the network is ideal for gaming and social interaction.
New Development?
The development group behind this new version of The Open Network is the TON Foundation. As it is described on ton.org:
The TON Foundation is a decentralized community started by Anatoliy Makosov and Kirill Emelyanenko after Telegram stepped away from the project. A community of open-source developers has supported the development of TON ever since, with the goal of staying true to the network design detailed in the original whitepaper.
Following Telegram's exit from TON, there were multiple competing development teams trying to get control of the project. The one led by Makosov formally asked for the ton.org domain. That request that was granted by Telegram and the TON Foundation was later given the stamp of approval from Telegram's CEO Pavel Durov:
Unlike the original TON, Toncoin is independent from Telegram. But I wish its team the same success. Coupled with the right go-to-market strategy, they have all they need to build something epic
Fedor Skuratov is a former community manager with TON labs, an entity linked to the initial Telegram-led version of TON. In an old CoinDesk article, Skuratov seems to indicate that Makosov was chosen to take over because his development team planned to follow Telegram's initial plan for the network:
As to why Durov chose to support Toncoin rather than Everscale, Skuratov said he believes that's because Toncoin's team "does not position itself as independent and 'follows Telegram's legacy' without any leadership ambitions of their own, and Durov likes that." Everscale made a point of cutting all ties with Telegram to avoid a "toxic" association with the project targeted by the U.S. regulator, Skuratov said.
I think this raises some questions about just how independent TON really is from Telegram but that is speculation on my part at this point. The TON Foundation does have control of quite a bit of money as $250 million was raised through investments by Kucoin and Huobi. There was an additional $90 million raised by a handful of other crypto investment entities separately from 176 independent donors who supported the network with over 527 million TON back in April of 2022 – that TON is now valued at over $1.3 billion.
Network Activity and Roadmap
So far, the community has launched a variety of applications built on The Open Network – most of these apps are geared toward NFTs and gaming in some form. Though there are some block explorers like TON API. According to that site, there are over 1.8 million accounts on The Open Network. The volume of daily transactions on the chain is very volatile and there isn't much of it even happening at peaks as daily transaction volume is generally well below $1 million.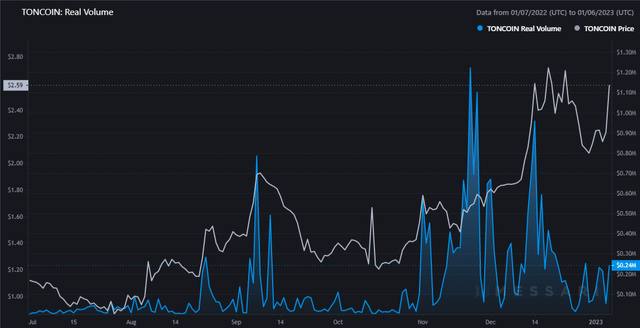 The biggest success from this blockchain so far seems to be through Telegram's sales of usernames and virtual phone numbers on a TON-based marketplace called Fragment. The roadmap for the network is ambitious to say the least: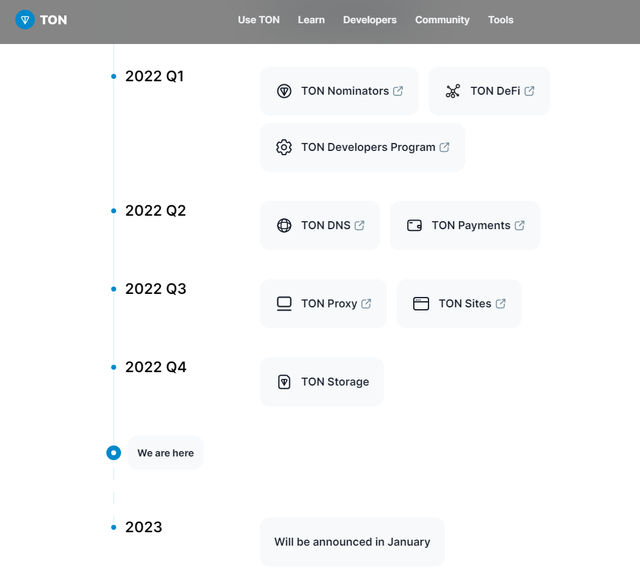 The TON Foundation wants to ultimately have a footprint in DeFi, stablecoins, file storage, domains, and websites. Essentially, it is trying to be everything all in one blockchain network. So far, adoption appears fast but still very small compared to other Layer 1 chains.
Risks
Jurisdiction risk seems like the obvious one for Toncoin. I think there are fairly large concerns about how the SEC would view this project given the new team's roadmap seems to be still very much tied to implementation with Telegram. The project's official Twitter handle has been suspended and one of the leading apps on the blockchain, Fragment, is blocked in the United States: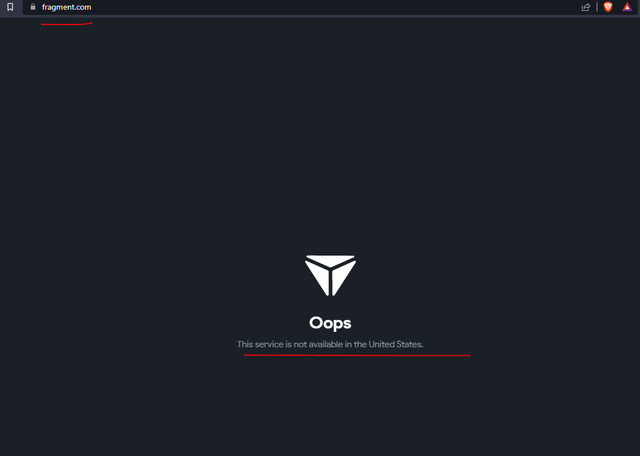 This is in addition to all of the normal risks that come with any cryptocurrency. Those risks include macro headwinds as well as loss of confidence in the future of public blockchain from individual investors. It's also important to remember that this is an industry that is filled with fraud and scams.
Summary
There isn't a lot of network data that is available and the roadmap seems very much tied to one specific social messaging app for onboarding users, namely Telegram. Telegram seems to be the only company that is doing anything meaningful with the blockchain itself and there is plenty of competition in the Web3 space. Furthermore, I think it's problematic that major US-based exchanges like Coinbase (COIN), Kraken, and Gemini haven't listed the token. I'd probably steer clear of this one for the time being even with DEX purchases.