Litecoin price drifted downwards ahead of the upcoming interest rate decision by the Federal Reserve and the collapse of First Republic Bank (FRC). The LTC coin dropped to a low of $86.61, which was lower than last month's high of $105.60. This price action coincided with the pullback of Bitcoin and Ethereum.
Fed decision, FRC collapse
The main catalyst for the LTC price is the collapse of Silicon Valley Bank (SVB). In a statement, the FDIC announced that it had seized the company and then quickly sold it to JP Morgan, the biggest bank in the United States.
As I wrote last week, the collapse of First Republic Bank was inevitable after the company lost over $100 billion in deposits. Its stock had collapsed by more than 90% in the past few days, giving it a market cap of less than $700 million.
The impact of FRC's collapse on the crypto industry could be positive since it means that the Federal Reserve could opt to go slow on its rate hikes. Analysts were expecting that the bank will hike interest rates by 0.25% on Wednesday.
Read more: How to buy Litecoin.
Now, with the banking sector being highly vulnerable, analysts will not be surprised if the bank decides to pause its rate hiking cycle.
The second main catalyst for LTC prices is the upcoming Federal Reserve decision scheduled for Wednesday. The bank will need to factor in the impact of the collapse of key US banks like SVB, Silvergate, and Credit Suisse.
It will also need to factor in the vulnerability of the commercial real estate sector. Recent data shows that the value of real estate holdings has plummeted as vacancies rise. For example, a recent media story identified a near empty San Francisco tower valued at $300 million that is being sold for less than $60 million.
And recession risks are still there. Data published last week showed that the American economy slowed down dramatically in Q1. With the yield curve being inverted, there is a likelihood of an upcoming recession.
A dovish tone by the Federal Reserve will be a positive thing for Litecoin and other cryptocurrencies like Casper, Hedera Hashgraph, and Cronos.
Litecoin price prediction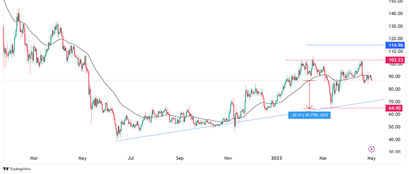 The LTC price found a strong resistance point at $103.23 this year. On the daily chart, we see that the coin failed to move above this level two times this year. As a result, it has formed a double-top pattern, which is usually a bearish sign. The neckline of this pattern is $64.90. It has also moved slightly below the 50-period moving average.
Therefore, because of the double-top pattern, there is a likelihood that the Litecoin price will have a bearish breakout in May and retest the neckline at $64.90. This price is about 25% below the current level. A move above the double-top point at $103 will invalidate the bearish view.